COVID-19 Rapid Antigen Test Kits
Sugentech's SGTi-flex rapid antigen test available now to order from FarmaTrust
'SGTi-flex COVID-19 Ag' is a one step, rapid Immunochromatographic Assay for the qualitative detection of specific antigens to SARS-CoV-2 present in human nasopharyngeal (or oropharyngeal) swab specimen.
Specimen: Nasopharyngeal (or oropharyngeal) swab

One Step, Fast results within 20 min

Full package for the whole test procedure

No need for additional tool/device

Swab

Buffer

Test Cassette

Package: 25 tests
​
£300.00 incl. VAT (Price per kit is £10.00 + vat = £12.00)
What is a COVID-19 Antigen Test?
---
Sugentech's SGTi-flex COVID-19 Ag is a rapid, lateral flow antigen test and it is used as an aid in the rapid diagnosis of SARS-CoV-2 viral infections. It can serve as an effective tool to help identify infected individuals. It directly detects the presence or absence of specific proteins (antigens) on the surface of the SARS-CoV-2 from nasopharyngeal and oropharyngeal swab specimens. The test which is easy to use doesn't require laboratory instruments; it can be conducted by a suitably qualified medical professional such as a nurse, doctor or pharmacist. It delivers results in 20-30 minutes
---
Who is the test for?
---
The test is for everyone who wants to know if they contracted the COVID-19 Virus and wants to rule out an active COVID-19 infection. It can be used as a test before safely seeing an elderly relative or a group of friends as well as a proof of status before returning back to work. This test is not suitable as a "Fit to Fly" certificate. If you need a negative COVID-19 test in order to be able to travel you have to conduct a COVID-19 PCR test.
---
How does the test work?
---
The SGTi-flex COVID-19 Ag is easy to administer and delivers results quickly using the nasopharyngeal swab method. Once a sample is collected, the swab is inserted into a tube with special liquid (buffer solution) to extract the target molecule. This liquid is then dispensed onto a test cartridge and in 20-30 minutes, a positive or negative result is clearly indicated. A detailed and comprehensive leaflet is provided with every box of test kits.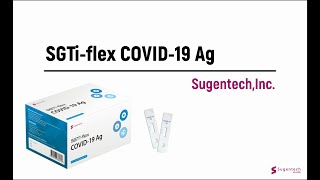 ---
Is the Test Kit (SGTi-flex COVID-19 Ag) certified?
---
SGTi-flex COVID-19 Ag is a product of Sugentech Inc, has the Declaration of conformity (DoC) and is EU and CE certified. Sugentech Inc. is a Research Institute Spin-off company of the Ministry of Science in Korea and was established in 2011. It successfully commercialized a variety of in-vitro diagnostic products. Sugentech Inc. are based in Daejeon, South Korea and listed on the South Korea stock exchange, the production capacity of lateral flow tests lies currently at around 16 million per month. --------------------------------------------------- Clinical Test Data Accuracy (Overall agreement) 95.63% ((76+99)/182, 95% CI : 91.61%~97.77%) Sensitivity (Positive percent agreement) 91.57% (76/83, 95% CI : 91.61~97.77%) Specificity (Negative percent agreement) 99% (99/100, 95% CI : 94.55~99.82%) LOD (Limit of detection) 5.3 x 102 TCID50/mL [SARS-CoV2 virus (ATCC, VR-1986HK 2019nCoV /USAWA1/2020)] View Sugentech Comparison Study report
---
How to order - FAQs
---
How much is the delivery? Shipping to the UK is £12.00 Happy to quote overseas shipping Which payment types do you accept? We currently charge for orders in advance and send out your test kit on receipt of payment Which countries/regions are you delivering to? UK and overseas When will my order arrive? It will take around 1-2 business days for the UK and 3-5 businessdays overseas How can I contact you? contact@farmatrust.com What is your minimum order? The minimum order is one kit (incl. 25 test with everything necessary to conduct a test)
---
Why does FarmaTrust sell Covid-19 test kits?
---
It's in our DNA to eliminate counterfeit drugs and medical devices and most importantly save lives
---
---
Please complete the form with the amount of kits you would like to order and your details. We will send you the invoice and deliver on receipt of payment. Unfortunately we cannot offer any returns, due to the nature of this product.
SGTi-flex COVID-19 Ag rapid immunoassay, 1 kit (25 tests)​
SGTi-flex COVID-19 Ag is an in vitro rapid immunoassay for the qualitative detection of specific antigens to COVID-19 present from nasopharyngeal or oropharyngeal swab specimens. It offers fast results in 20 minutes and no extra tools or devices are required other than this kit (25 tests). CE marked, for in vitro diagnostic use within EU and equivalent countries. This kit may only be used by qualified medical personnel.
Product group:

Immunoassay

Kits
Download patient questionnaire
It helps you as a pharmacist

to collect important patient information.